The Best Star Wars Lego Sets of 2018 (Updated)
After binging on Legos for many years, I've come up with the best Star Wars sets out today. I've used my own experience for the basis of my lists but have also scoured the web for reviews, input and ratings and combined them all for your easy consumption.
Highest-Rated Star Wars Kit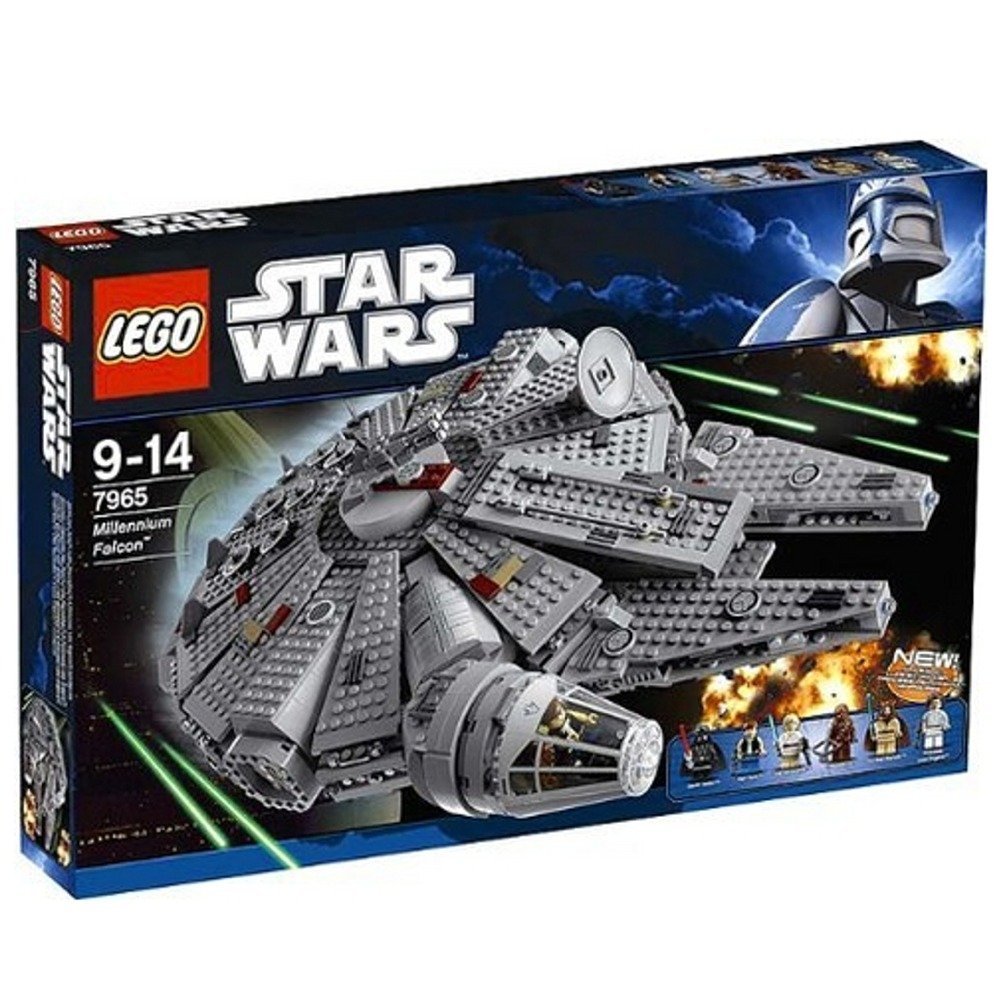 Straight to the point, skip everything else and go get this set if you dont have it already. This is the highest rated Star Wars set from the community and also my personal favorite.
Legos and Star Wars. Is there a more perfect match to be made in Lego licensing heaven? To many people, no, there isn't as both long running brands bring to mind very specific sets of nostalgia. It is no surprise that Lego choose Star Wars as the first licensing set in their product line back in 1999 (it debuted along with Winnie the Pooh Duplo that same year). The original release coincided with the release of Star Wars Episode I: The Phantom Menace. Lego would continue rolling out sets tied to the latest movies while also producing classics from the original trilogy. The results are sets spanning eight theatrical movie releases (soon to be nine with The Last Jedi), and additional television shows. As far as licensed themes go, Star Wars has a long history in the Lego world.
Lego clearly wants to keep the history going as the Star Wars theme is consistently among the upper echelon of Lego themes in terms of the most sets coming out in a year. Part of this is due to the recent and planned theatrical releases of The Force Awakens, Rogue One, and The Last Jedi and, naturally, they still frequently draw from the first six movies in the franchise. Lego doesn't stop there, however, as the animated shows Freemaker Adventures, Rebels, and Clone Wars all have sets that are not retired as of 2017. Eight movies and three television shows, that's a lot of source material to choose from. What made it into our top ten list? Find out below.
Rogue OneRogue One
What Sets Are Eligible For Our List?
Any Lego Star Wars set that is still readily available, i.e. not retired, in 2017 could qualify for our list.  That is a pretty broad list and we did consider quite a few, but there are some other ways we narrowed it down.  There are a couple of dozen sets which are little more than a minifigure and a small ship or another accessory.  If one of these blew us away, we would consider it, but given the wealth of options available, that didn't happen.  
Top Ten Star Wars Sets of 2017 (updated for 2018)
How Did We Rate The Sets?
At the end of the day, this is our website and our list, so our opinion had the final say.  However, we'd be fools not to use the opinions of thousands of other brickheads out there.  We checked out the set ratings from the top retailers and factored them into our ratings when necessary.  We weren't going to have a strong opinion swayed, but if we were on the fence about any, we'd take those ratings into consideration.  
As for how we judge sets ourselves, we tend to break it down into two categories:  the build and the components.  We're like any other Lego enthusiast, we love the build.  It needs to be challenging and engaging, not something that can be pieced together without instructions.  It doesn't necessarily have to be a huge set, there is often a lot of fun to be had in smaller sets, but the build needs to grab our attention.  Most of those on our list end up being on the longer side for builds, as it's the nature of the build that sets with more detailed builds will end up more engaging for us.
The components come down to "what's in the box?"  This is an important aspect of any Lego set, but arguably even more so in a licensed theme like Star Wars.  As a fan of the movies, you know the sets before you start building them.  Sets which have the perfect balance of nostalgia and just plain cool features will inevitably rise to the top for us.  For more info and reviews please visit our friends at Ninja Brick and read their Star Wars reviews.
Millennium Falcon Quick Review
The Millennium Falcon set comes in at the top of our list simply because it's freaking awesome.  It is among the two or three most recognizable images from the entire Star Wars franchise, so it easily checks the nostalgia box.  The set is huge at 1329 pieces and takes a few hours to complete.  Inside the box you get the awesome Falcon itself, complete with the iconic holochess board, cockpit, and even spring loaded blasters.  Additionally, you get a wealth of minifigurines including Han Solo, Chewbacca, Rey, Finn, and BB-8 (you get two more, but who cares about those guys?).  The minor complaint here is that this is The Force Awakens version, so you get old Han, rather than A New Hope Han.  That's easy enough to ignore, however, with the all-around spectacular set included here.
Slave 1 (75060) Quick Review
Boba Fett is, of course, one of the most iconic characters from the Star Wars series, quite amazing given his actual role in the original trilogy, he has taken on a folk status among fans.  Slave I is his ship and this Lego set is massive.  It's got a bulk to it that even other large sets on our list don't have.  It is 1996 pieces and the finished product feels incredibly sturdy.  Comparing it to the completed Tie Fighter, with its massive wings, shows a huge difference despite the sets being similar in number of pieces.  Slave I comes with four mini-figurines and a bonus Han in carbonite.  Boba Fett, Han (not in carbonite), and the Stormtrooper are all classic mini-figurines and great additions.  The final mini-figurine is a Bespin guard, fitting for the kit, but kind of a bland minifigurine within the Star Wars universe.  This set will take a few hours but remains a relatively straightforward build. The completed Slave I is one of the most eye-catching kits in the Star Wars series.  The bold green and red decoration stands at a stark contrast from the shades of black and gray most things in the Star Wars universe are comprised of.  A fun, extended build, a great massive, great looking final product, and fantastic mini-figurines, what more could you want?
TIE Fighter (75095) Quick Review


With such an iconic and ubiquitous series like Star Wars, there are going to be some entities which are almost too obvious as candidates for great Lego sets.  The TIE Fighter ranks up there among the most iconic ships in the Star Wars universe and it is great to see Lego produce a high quality kit from the source material.  The TIE Fighter is a large build at 1685 pieces, the final result has a huge presence due mainly to the massive wings on the ship.  It is quite cool to see Lego give the TIE a large scale build like this, it is a part of their Ultimate Collector Series.  The minor complaint here is that it only comes with one minifigurine, which makes sense given the context, but we still enjoy getting a few with our bigger set purchases.  The build will take a few hours, there is some redundancy with how massive the wings are, but the end result is fantastic so the build is ultimately incredibly rewarding.
Krennic's Imperial Shuttle (75176) Quick Review


Our first entry from Rogue One, Krennic's shuttle offers a fun build of the Imperial starship belonging to the most hated character in the great Rogue One movie.  Along with a great Krennic minifiguring, you get a K-2S0 droid, two Imperial Death Troopers, Pao, and Bodhi Rook.  The attention to detail on the minifigurines is great, the K-2S0 is a personal favorite.  Our favorite part about this build is that is just looks cool.  The design is a sleek, black pyramid shape which makes it stand out even among some iconic Star Wars startships.  Being able to move the massive wings is a joy.  The ship comes with a couple of spring loaded blasters which are always a plus in our book.  The build for this set isn't terribly long, but remains fun.  Krennic's shuttle might not be canon in the Star Wars universe, but this is a great set and worth checking out.
Poe's X-Wing Fighter (75102) Quick Review


Poe's X-Wing stands out with the bold black and orange color scheme.  This is a stark contrast to the usual gray and red/blue scheme from the original trilogy.  The assembled starship takes up some space, but does so with a relatively small piece count of 717.  It has all of the features you would want from an X-wing, the wings switch between attack and flight positions, multiple shooters, and retractable landing gear.  Included with set are Poe and two generic Resistance members, the real gem is naturally the BB-8 who sits nicely behind the cockpit.  The build is fairly straightforward and is certainly shorter than some of the bigger sets, but will keep you interested.  Come for the slick color scheme on the awesome X-wing, stay for the great features and BB-8.
Darth Vader Transformation (75183) Quick Review


Sometimes small and simple can be good things.  This set is very basic, consisting of 282 pieces, many of which are minifigurines and Droids.  The set replicates the scene in Revenge of the Sith where Anakin is transformed into Vader.  The Emperor is included as a minifigurine along with Anakin, Vader, and two Droids.  This is a quick build, but the payoff is fantastic.  Getting to lower Anakin and flip the table over to reveal Vader is an incredibly simple, but fun moment to experience in the Lego world (manually adding his helmet in extreme slow motion is totally optional, but highly recommended).  What this set lacks in size and depth it more than makes up for in fun and cool accessories.  
Captain Rex's AT-TE (75157)


Our first entry from outside of the movies, Captain Rex's AT-TE is a fantastic set pulled from the Star Wars Rebels animated television series.  Rex was introduced in The Clone Wars animated movie, but this set has an aging Rex from the Rebels animated series.  This set won't appeal to everyone, as many might not follow the animated series, but for fans of the show, this AT-TE really hits the mark.  The sheer amount of cool stuff going on here should appease any Lego fan.  The spring-loaded shooters are always awesome, but this behemoth also packs on a couple of cranes, loading doors, and six moveable legs.  Moving this thing around is a lot of fun.  The minifigurines are Rex himself, of course, along with his partners Gregor and Wolffe and two Imperials two give chase; an Inquisitor Fifth Brother (with lightsaber) and Stormtrooper.  This set is a slam dunk for fans of Rebels, but is just plain fun for any Lego fan.
https://shop.lego.com/en-US/Captain-Rex-s-AT-TE-75157
Jedi Starfighter with Hyperdrive (75191)


This is a pretty crazy looking set.  Taken from Attack of the Clones, this set pieces together Obi-Wan's Starfighter with an impressive hyperdrive module.  The hyperdrive is a blast to play with.  It has a dock for the Starfighter, two spring-loaded shooters and a quick release for the Starfighter.  The Startfighter itself isn't going to blow you away, but it is a sleek little ship that is very well designed and a fun build.  Not as fun as the hyperdrive, but fun nonetheless.  One of our favorite features of this set are the minifigurines.  Of course Obi-Wan is included, but you also get Jango Fett and a young Boba, which is fantastic.  Rounding out the characters is a R4-P17 droid which docks on the Starfighter.  The build isn't as lengthy as some others here, but it isn't exactly a quick task either.  The overall fantastic visual appeal makes this set shine, but the smaller details really set it apart.
https://shop.lego.com/en-US/Jedi-Starfighter-With-Hyperdrive-75191
Scout Trooper and Speeder Bike (75532)


The large scale figurines can be hit or miss, honestly.  Some of them can really get so far away from the classic Lego minifigurine that they can feel pretty far off for a Lego traditionalist.  However, even for a grumpy minifiguring fanboy, it is easy to see the appeal when they get it right.  A shining example is the Scout Trooper and Speeder Bike set.  The Speeder is of course one of the coolest vehicles in the original trilogy, landing in Return of the Jedi's Battle of Endor.  The speeder features a spring-loaded shooter and a few other cool details like movable flaps.  The Speeder is sturdy and the Trooper fits on quite well with the handlebars and foot rests seating him nicely.  This is a set that can handle some action, it is light, lean, and fun.  Not the most challenging or lengthy build out there, but the end result is a must have for any Star Wars fan.
https://shop.lego.com/en-US/Scout-Trooper-Speeder-Bike-75532
Y-Wing Starfighter (75172)


The less cool little brother of the X-Wing, the Y-Wing has always gotten a bit of a bum wrap.  They don't project the sleek, effortless cool of a TIE or X-Wing fighter, but they get the job done and played a big role in the Star Wars universe.  Y-Wings were featured throughout many Star Wars movies, this one comes with minifigurines of Admiral Raddus and Moroff, suggesting it was set in the Rogue One timeframe.  The pilot is a generic Rebel pilot, rounding out the minifigurines are a Stormtrooper and an Astromech droid.  The extras on this set are why it makes our list.  The retracting landing gear is great, but the using the included crane to lift the ammo into place, then a fantastic rear gearwheel mechanic is used to drop the payload.  It's quite a fun little mechanical twist that really stands out.  This build will likely take an hour or two, so not terrible complicated, but still a fun time as always.  The Y-Wing isn't as sexy as an X-Wing, but it still deserves a place on your Lego shelf.
https://shop.lego.com/en-US/Y-Wing-Starfighter-75172
Best Budget Sets
Let's be honest; Legos can be expensive.  The inner Star Wars fanatic might really want to buy that 4,000 piece Death Star, but that's simply not for everybody.  It certainly isn't practical if you need to find something for your niece or nephew's birthday present.  We're here to help.  Below is a list of the cheaper Lego Star Wars sets that we love, with a brief summary of why we love them.  We limited this list to setes with an MSRP under $25.  
Darth Vader Transformation (75183): This one was so good, it made our primary list!  Don't overthink it, get this set!
Yoda's Jedi Starfighter (75168) : Yoda and R2-D2 and a rare green Starfighter?  Yes, please, this set looks great and features two iconic characters.
https://shop.lego.com/en-US/Yoda-s-Jedi-Starfighter-75168
Duel on Naboo (75169): Recreate the famous battle scene from The Phantom Menance.  Qui-Gon, Obi-Wan, and Darth Maul are all here to do battle on a small power generator from the Naboo fight. Frequently on Sale
https://shop.lego.com/en-US/Duel-on-Naboo-75169
Bounty Hunter Speeder Bike Battle Pack (75167):  We love these Battle Packs, they give a handful of minifigurines and a cool vehicle at a super great price.
https://shop.lego.com/en-US/Bounty-Hunter-Speeder-Bike-Battle-Pack-75167
Carbon Freezing Chamber (75137):  Another iconic moment in the Star Wars universe captured perfectly on a small scale.  Boba Fett and Han are here (along with Ugnaught) to recreate the freezing scene.
Amazon.com http://amzn.to/2gYCMfm
Lego.com https://shop.lego.com/en-US/Carbon-Freezing-Chamber-75137
Imperial Death Trooper (75121): This large figuring simply looks awesome. A super sleek design with a great looking blaster, this one will look great on your shelf.
https://shop.lego.com/en-US/Imperial-Death-Trooper-75121
https://www.amazon.com/LEGO-Imperial-Death-Trooper-75121/dp/B01CVGVCNY/
Luke's Landspeeder (75173):  There's a lot to love here with the classic landspeeder build which also includes three classic minifigurines: Luke, C3PO, and Obi-Wan (or Ben, if you prefer) Kenobi. The Tusken Raider also looks fantastic.
https://shop.lego.com/en-US/Luke-s-Landspeeder-75173
https://www.amazon.com/LEGO-Star-Wars-75173-Landspeeder/dp/B01J41KIIE
Rey's Speeder (75099): Luke's speeder for a new generation.  Rey's speeder perfectly captures the clunky design of her vehicle from The Force Awakens.
https://shop.lego.com/en-US/Rey-s-Speeder-75099
https://www.amazon.com/LEGO-Star-Speeder-75099-Building/dp/B00WI0QCAM/
Y-Wing Microfighter (75162): Quite honestly, this is simply one of the most adorable Star Wars Lego sets you can find, the super tiny Y-Wing looks fantastic.
https://shop.lego.com/en-US/Y-Wing-Microfighter-75162
https://www.amazon.com/LEGO-Y-Wing-Microfighter-75162-Building/dp/B01N3Y4QUG/
Resistance X-Wing Fighter (75125): We clearly have a soft spot for adorable Starfighters, put this one next to the Y-Wing.
https://shop.lego.com/en-US/Resistance-X-Wing-Fighter-75125
https://www.amazon.com/LEGO-Resistance-X-Wing-Fighter-75125/dp/B019IR53CU/